There is no denying that within the last two years, design styles for the home have evolved and have even hybridized to form completely new styles. I remember just a couple years ago taking a "What's Your Home Design Style?" quiz online and being limited to just one result. (I can't just be Mid-Century Modern! Boho was definitely a close second.) Fortunately, many have learned that design tastes can be brought together to create some chic and interesting living spaces for many! Elements from different design styles have been proven to mesh well together through simple swaps of textures, materials and colors. A clear example of this is evident through the use and rise in popularity of pampas grass in different home design styles. From Instagram to Tik Tok, this plant is showing up in Boho-Minimalist-style apartments in New York City to homes in the Minneapolis area that echo a true Modern-Farmhouse-style design. There is no doubt that this plant compliments many home design styles and isn't limited to just being used by one. Fortunately, we have come up with two top picks of our favorite artificial pampas grass for our readers to choose from to spice up their existing design styles and think outside of the box.
What is Pampas Grass?
Pampas (POM-pass) Grass is a plant that originates from the Pampas region in Argentina. This South American plant is a plume grass that grows on river plains. Part of the year, the crown of the pampas grass is under water while the rest of the year, the plant is stressed by lack of water. Due to this, the plant has a signature "poofy" appearance and its colors range from pink, lavender to silvery white. Many attribute the pampas grass' elegant appearance to this unique texture and appearance. Some may think that pampas grass resembles Cher Horowitz's feather pen from "Clueless", which was all the rage in the early 2000's. (Trust me. All the cool girls had them.) However, unlike these fluffy pens from the Y2K era, pampas grass can reach heights from ten to fifteen feet. Therefore, I would argue that a better comparison would be the Truffula trees from Dr. Seuss' "The Lorax".

Why Should I Buy Pampas Grass?

The ubiquity of pampas grass in homes with different design styles can be explained by the fact that more people want to incorporate organic elements into their living spaces. While some design elements clash with each other, those that are from nature just go with the flow. Natural design elements such as: cotton, wood, leather and pampas grass can introduce a new texture, color and overall mood in a home. The desire to integrate natural pieces, such as pampas grass, into an existing design style, speaks to humans' inherent connection with nature and the outdoors. There is no doubt that organic pieces help individuals feel more calm and at peace with their living spaces. As a result of 2020, it wasn't only evident that living spaces became increasingly more important to individuals, but also that there was an option to connect to nature from indoors, (which explained the rising popularity of owning plants). Therefore, individuals should consider adding organic elements to their developing or established design styles if they want to feel more connected to their homes.

What Kind of Pampas Grass Should I Buy?

When looking for pampas grass, it is important to understand that there are a variety of options. However, one's choices may be limited depending on whether they choose to decorate with real pampas grass or fake pampas grass. Real pampas grass that has been cut and dried for home decor can potentially last up to three years. However, there is some recurring maintenance and potential drawbacks that comes with owning the real deal. Owners of real pampas grass find that they need to occasionally spray the plant with hairspray to preserve pampas grass and keep the seeds from coming off. If sealed correctly, there should be no shedding from the plant for up to three years. In addition to this, regular dusting of the plant is recommended if individuals want to prevent dust build up in their home. Furthermore, those with pollen allergies might have adverse reactions to these natural plants in the home, even if they have been dried and sprayed. Another limitation of real pampas grass is the fact that it only comes in a limited number of colors. Real pampas grass typically comes in sand-pink to silvery-white, which might be something individuals with eclectic design tastes will have to work around when decorating. In contrast to real pampas grass, artificial pampas grass is significantly easier to maintain and doesn't have an expiration date. Additionally, the primary material that fake pampas grass is made from is silk, which means no need to set it out to dry and then coat with hairspray. Furthermore, this also means that artificial pampas grass won't trigger allergies like real pampas grass might. Still, it is important to remember to clean off dust regularly (like one would with real pampas grass) to prevent build up. Luckily, artificial pampas grass is more durable, so feel free to get into every crevasse to clean out debris build up. Another benefit of artificial pampas grass is that it can come in a wide variety of colors due to being made from silk. Individuals have the liberty to choose not only warm beige tones but also colors like cool blue tones, (which go great with bold colors such as: red and orange). Evidently, artificial pampas grass is best suited for those with an adventurous design style since there is a significant increase in the variety of color choices.
Our Top Picks for Artificial Pampas Grass for Sale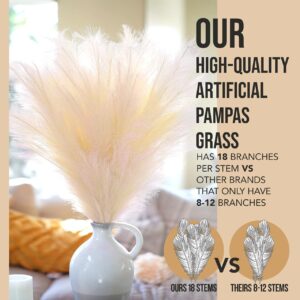 For those who want to recreate the authentic Argentinian river plains in their own home, we recommend going for the artificial pampas grass in a natural beige color. Three pieces of pampas grass that measure 44 inches in length are included with each order. This length makes these pampas grass pieces perfect for decorating spaces such as: living rooms, dining rooms or apartments. Additionally, these artificial pampas grass pieces are made from high quality silk fibers, so they don't shed and are pollen/allergy-free. Boho and Farmhouse design style enthusiasts are sure to love the look of these elegant, yet effortless design pieces that are sure to make you more connected to your living spaces.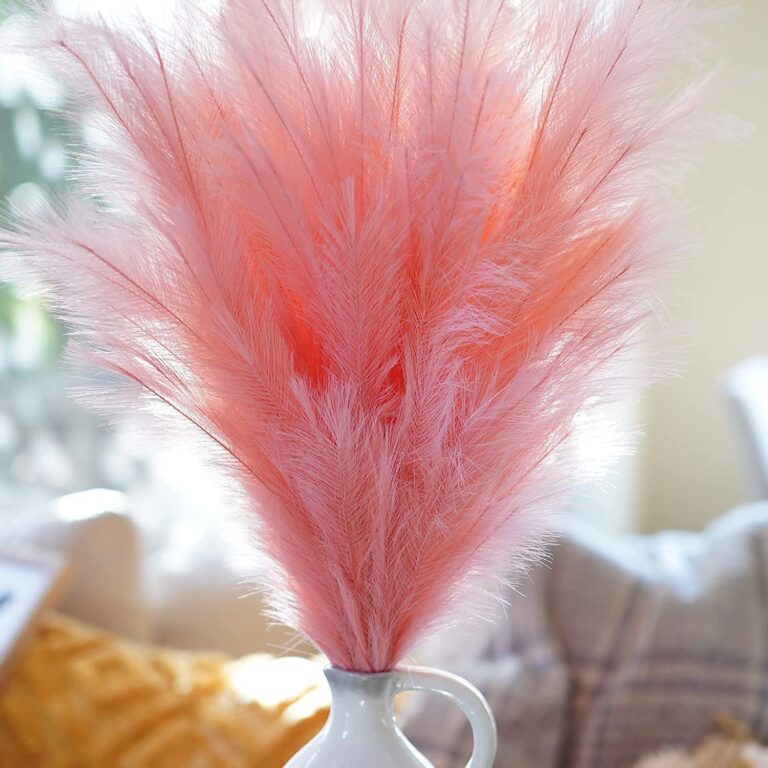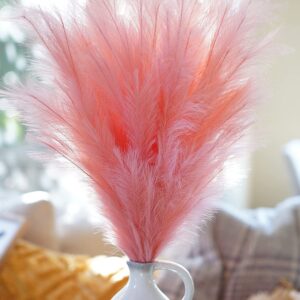 Individuals who prefer a more eclectic design style should check out the artificial pampas grass pieces that come in pink, (reminiscent of the Y2K fluffy pens that little girls pined over for years). Whether one identifies with a girly boho style or simply wants to try and take on the Grandmillennial style that's been trending since 2020, these pieces are sure to do the trick. Like the Artificial Pampas Grass in Beige mentioned above, these pieces are made from silk, which allows for the product to come in such a bright and flirty pink. Aside from the fun color, these pampas grass pieces don't shed or cause allergic reactions thanks to being made from silk. Whether you choose to accent your dorm room or bedroom with these pieces, you're sure to smile every time you catch them from the corner of your eye.
In Conclusion
Design styles for the home have come a long way and have even combined to form completely new styles. Instead of siding with only one home design style, individuals now have the option to swap design elements from different styles that actually compliment each other. Had I known this previously, I would have simply identified elements from the Boho style that could be incorporated into my Mid-Century Modern style! An easy solution would have been the introduction of artificial pampas grass into my already-existing design tastes. Specifically, I would have definitely chosen the pink pampas grass for my space since it's fun, bright and yet still maintains that touch of nature thanks to its unique and timeless texture. Hopefully someone who finds themselves in a similar design style pickle utilizes my (now-existing) solution. Whether you prefer an eccentric style or a natural one, these top two picks for artificial pampas grass are sure to do the trick. Don't be afraid to take risks with your design styles and try out both if necessary. You're sure to love whatever you come up with and feel connected to your space more than ever