Enhance your home entertainment with the sleek and stylish Samsung TV Frame. Experience the perfect blend of aesthetics and technology for an immersive viewing experience.
The Evolution of TV Technology
Over the years, television technology has undergone remarkable advancements. From bulky CRT TVs to sleek flat screens, our viewing experience has transformed significantly. One TV that stands out in terms of innovation and design is the Samsung Frame TV. Combining the functionality of a TV with the elegance of a work of art, the Samsung Frame TV is a game-changer in the world of home entertainment.
Samsung Frame TV: A Blend of Art and Technology
The Samsung Frame is not just a television; it's a masterpiece that transforms your space into an art gallery. When the TV is turned off, it seamlessly blends into your room's decor, displaying stunning works of art. With a variety of art collections to choose from, you can customize your TV to reflect your personal style and taste.
Transforming Your Space with Artistic Brilliance
Imagine walking into your living room and being greeted by a captivating piece of art on your TV. With the Samsung Frame, this becomes a reality. The TV's Art Mode allows you to display artwork from renowned artists, turning your space into a visual delight. You can choose from a vast library of artwork or even showcase your own photos.
Seamlessly Integrating with Your Home Decor
One of the key features of the Samsung Frame is its ability to seamlessly integrate with your home decor. The TV comes with customizable bezels that allow you to match it to your room's color scheme and style. Whether you prefer a classic wooden frame or a modern metal one, the Samsung Frame offers options to suit every taste.
Lifelike Picture Quality for an Immersive Viewing Experience
While the Samsung Frame is a work of art, it doesn't compromise on picture quality. With QLED technology, the TV delivers stunning visuals with vibrant colors and exceptional contrast. Whether you're watching your favorite movies or indulging in a gaming session, the Samsung Frame ensures a truly immersive viewing experience.
Discover the Versatile Art Display Options of the Samsung Frame TV
In addition to displaying artwork, the Samsung Frame offers various customization options to enhance your art display. You can adjust the brightness and color tone to ensure that the artwork looks its best in any lighting conditions. The TV also has a motion sensor that turns off the display when no one is present, conserving energy and preserving the artwork.
Smart Features and Connectivity
The Samsung Frame is not just about aesthetics; it's also a smart TV packed with features. You can access popular streaming platforms, browse the internet, and even control your smart home devices directly from the TV. With built-in voice assistants like Bixby and compatibility with smart devices, the Samsung Frame offers a seamless and connected experience.
Easy Installation and Setup
Setting up the Samsung Frame is a breeze. The TV comes with a slim and easy-to-mount wall bracket, allowing you to hang it like a piece of art. The One Connect Box keeps the cables neatly organized, reducing clutter and ensuring a clean look. With step-by-step instructions and a user-friendly interface, you'll have your Samsung Frame up and running in no time.
Enhancing Your Entertainment Experience
Beyond its artistic features, the Samsung Frame delivers exceptional entertainment capabilities. With a range of apps and streaming services, you can enjoy a wide variety of content at your fingertips. The TV's powerful processor ensures smooth performance, and the integrated speakers provide immersive sound quality, making every movie night a cinematic experience.
Unveiling the Eco-Friendly Features of Samsung Frame TV
Samsung is committed to sustainability, and the Frame TV is designed with energy efficiency in mind. The TV is Energy Star certified, consuming less power without compromising performance. With features like the motion sensor and ambient light sensor, the TV automatically adjusts its settings to save energy when not in use.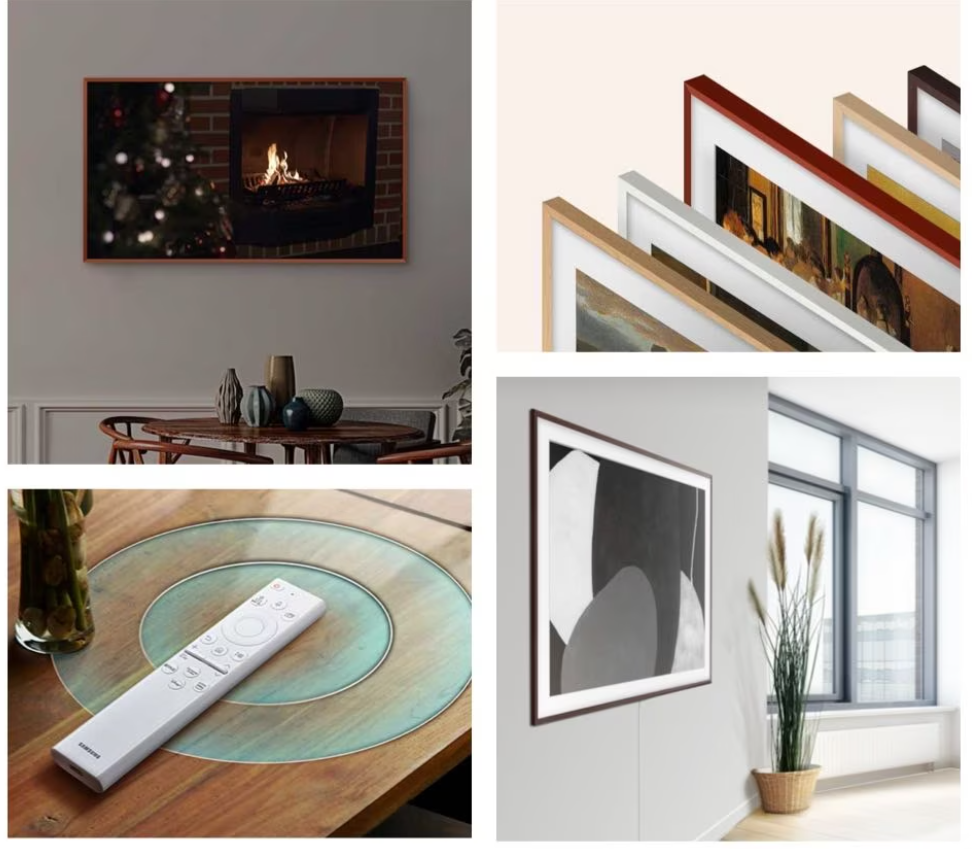 Frequently Asked Questions (FAQs)
Can I use my own artwork or personal photos on the Samsung Frame TV?
Yes, the Samsung Frame allows you to showcase your own artwork or personal photos through the Art Mode feature.
How do I change the bezels of the Samsung Frame TV?
The bezels of the Samsung Frame are easily interchangeable. You can simply snap off the existing bezel and replace it with a new one.
Can I control the Samsung Frame TV with my voice?
Yes, the Samsung Frame supports voice control through the built-in Bixby assistant or compatible smart devices.
Does the Samsung Frame TV come with a warranty?
Yes, the Samsung Frame comes with a standard manufacturer's warranty. Check the specific details for your region.
Can I connect my gaming console to the Samsung Frame TV?
Absolutely! The Samsung Frame TV has multiple HDMI ports, allowing you to connect your gaming console and enjoy gaming on the big screen.
The Samsung Frame TV revolutionizes the way we perceive television. With its seamless integration into your home decor and customizable art display options, it truly transforms your space with artistic brilliance. Combining stunning picture quality, smart features, and energy efficiency, the Samsung Frame TV offers a complete entertainment package. Elevate your viewing experience and turn your TV into a captivating work of art with the Samsung Frame TV.
Explore our carefully selected top choice for the ultimate Samsung TV Frame from Amazon, ensuring a seamless and convenient experience like never before.
Discover a vast array of Samsung TV frames, offering a diverse selection to suit your unique style and enhance your viewing experience.
Explore our wide range of informative articles dedicated to TV equipment and accessories like Best Table Top TV Stand and and Best Outdoor TV Stand, ensuring you stay up-to-date with the latest trends and advancements in the industry.