When it comes to footwear that strikes the perfect balance between comfort, durability, and style, Merrell shoes stand in a league of their own. Founded in 1981 by Randy Merrell, Clark Matis, and John Schweizer, the brand has been synonymous with outdoor adventure and performance. From hiking to trail running, Merrell has crafted shoes that cater to the needs of active individuals, providing the utmost support and protection for their feet. In this article, we will take a deep dive into the world of Merrell, exploring its key features, the technology behind their comfort and durability, the diverse range of styles available, customer reviews, and frequently asked questions to guide you in experiencing the unparalleled comfort and durability that Merrell have to offer.
The Merrell Legacy
A Legacy of Adventure
Merrell's journey began with a vision to create high-performance footwear that could withstand the rigors of outdoor adventures.
Built-on Experience
With a team of hikers, runners, and outdoor enthusiasts at its core, Merrell's shoes are designed by those who understand the demands of the wilderness.
Comfort Technology of Merrell Shoes
Air Cushioning
Merrells' are equipped with air cushioning in the heels, providing shock absorption and stability during long walks and hikes.
Kinetic Fit™ Insole
The Kinetic Fit™ insole offers superior arch support and cushioning, ensuring all-day comfort during various activities.
Durability and Performance
Vibram® Outsoles
Merrell collaborates with Vibram®, a renowned rubber outsole manufacturer, to deliver exceptional traction on various terrains.
Waterproof Technology
Some Merrell footwear is enhanced with waterproof membranes, keeping your feet dry and comfortable even in wet conditions.
Diverse Styles for Every Adventure
Hiking Shoes
Merrell's hiking shoes are engineered with rugged materials and robust construction, ideal for conquering challenging trails.
Trail Running Shoes
For trail runners, Merrell offers lightweight and agile shoes that provide optimal traction and stability on uneven surfaces.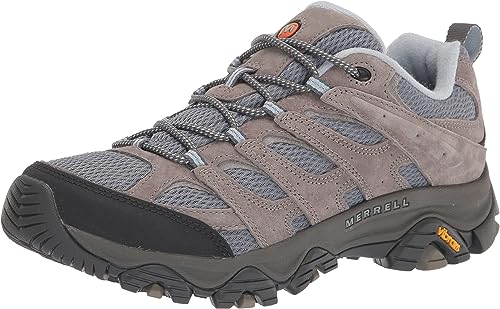 Customer Reviews and Testimonials
Raving about Comfort
Customers praise Merrell footwear for their exceptional comfort, making them a reliable choice for daily wear and long journeys.
Rugged and Reliable
Positive reviews highlight the durability and performance of Merrell sneakers proving their worth in demanding outdoor activities.
 Frequently Asked Questions (FAQs)
Are Merrell shoes suitable for casual wear?
Yes,  it is designed to be versatile, making them suitable for both outdoor adventures and casual wear.
How do I choose the right size of Merrell footwear?
It's recommended to refer to Merrell's size chart and consider the type of activity you'll be engaging in while selecting the right size.
Can I use Merrell hiking shoes for backpacking trips?
Yes, Merrell hiking shoes are ideal for backpacking trips, providing the necessary support and protection for rugged terrains.
Are Merrell shoes suitable for people with wide feet?
Merrell offers shoes in various widths, including options for people with wider feet, ensuring a comfortable fit for all.
Do Merrell shoes require a break-in period?
While some shoes may require a short break-in period, many Merrell footwear are designed to offer immediate comfort right out of the box.
Merrell shoes have carved a niche in the footwear industry, becoming synonymous with comfort, durability, and outdoor adventure. With their innovative technology, such as air cushioning and Vibram® outsoles, Merrell provides the ultimate support for your feet during long journeys and challenging activities. Whether you're hiking rugged terrains or exploring nature's trails, Merrell footwear are designed to accompany you on your adventures with unparalleled comfort and durability. The brand's commitment to quality and performance shines through in customer reviews, where comfort and rugged reliability are celebrated. So, if you're seeking a footwear companion that embraces comfort and stands the test of time, look no further than Merrell, where every step becomes an experience of comfort and durability.
Merrell shoes have etched a distinctive mark in the footwear realm, intertwining with feelings of comfort, unwavering resilience, and a passion for outdoor exploration. Embark on a journey to Amazon to uncover an array of remarkable Merrell shoe collections. Dive into the world of their top-selling triumphs, or venture to Zappos for a plethora of Merrell Boots, Shoes, Sandals & Socks. Alternatively, you can secure your pair straight from the Merrell shop, ensuring authenticity and a seamless shopping experience.
For other exceptional options, embrace the unparalleled allure of Altra shoes, the timeless elegance of Prada shoes, the specialized support of wrestling shoes, and the minimalist charm of Xero shoes. Each selection embodies its unique essence, catering to diverse preferences and styles.