In the ever-changing world of fashion, certain garments manage to stand the test of time, becoming iconic pieces that transcend trends and seasons. One such wardrobe essential is the shirt dress. Blending the classic appeal of a button-down shirt with the feminine charm of a dress, shirt dresses have captured the hearts of fashion enthusiasts worldwide. In this comprehensive article, we will explore the history, styles, and versatility of shirtdresses, along with tips on how to wear them for various occasions. Whether you are new to the world of shirtdresses or a seasoned fashionista, this article will provide valuable insights and answers to frequently asked questions.
Definition of Shirt Dresses
A shirtdress, as the name suggests, is a dress that borrows elements from traditional men's shirts. It typically features a button-down front, collar, and cuffed sleeves, just like a classic shirt. The magic of a shirtdress lies in its ability to effortlessly combine the comfort and ease of a shirt with the elegance and femininity of a dress. This unique fusion makes it a versatile and flattering choice for women of all ages and body types.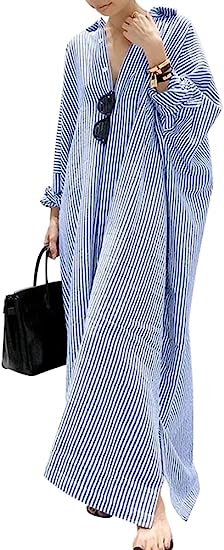 Popularity and Versatility
Shirtdresses have garnered immense popularity over the years due to their unmatched versatility. From casual outings to formal events, a well-designed shirtdress can be your go-to outfit. Their timeless appeal ensures that they remain a fashion staple in every woman's wardrobe, regardless of changing trends.
The Evolution of Shirt Dresses
Historical Background
The roots of shirtdresses can be traced back to the early 20th century. Originally inspired by men's work shirts, they started as a practical and modest fashion choice for women during a time when modesty was highly valued. However, it wasn't until the 1950s and 1960s that shirtdresses truly gained widespread recognition and became a fashion statement.
Style Adaptations Over the Years
As fashion evolved, so did shirtdresses. Fashion designers began experimenting with various fabrics, patterns, and cuts, giving birth to numerous adaptations of the classic shirtdress. These adaptations catered to different tastes and occasions, making shirtdresses a versatile and accessible option for women from all walks of life.
Types of Shirt Dresses
Let's delve into some of the most popular types of shirtdresses:
Classic Button-Down Shirt Dresses:
The epitome of timeless elegance, classic button-down shirtdresses features a straight silhouette and a button-front closure. They often come with a waist belt to accentuate the figure and create a polished look suitable for both formal and casual events.
Wrap Shirt Dresses:
Wrap shirtdresses are a more figure-flattering option that offers an adjustable fit. The wrap design cinches at the waist and ties at the side, creating an attractive v-neckline. This style is particularly popular for its ability to complement various body shapes.
Belted Shirt Dresses:
Similar to classic button-down shirtdresses, belted shirtdresses come with a belt or sash that cinches at the waist. The belt adds a touch of femininity to the outfit while accentuating the waistline.
Finding the Perfect Fit
While shirtdresses are known for their versatility, finding the perfect fit is essential to look and feel your best. Here are some considerations when choosing a shirtdress:
Body Shape Considerations:
Pay attention to your body shape to select a shirtdress that flatters your figure. For example, an A-line silhouette works well for pear-shaped bodies, while a wrap dress is ideal for hourglass figures.
Dress Length and Hemlines:
Shirtdresses come in various lengths, from mini to maxi. Choose a length that suits your height and the occasion you plan to wear it for. Hemlines like asymmetrical cuts and high-low designs can add visual interest to the outfit.

Styling Shirt Dresses for Different Occasions
Casual Day Out:
For a relaxed and laid-back look, pair a classic denim shirtdress with white sneakers or sandals. Add a straw hat and some oversized sunglasses for a chic summer vibe.
Work-Ready Attire:
Opt for a button-down shirtdress in a solid color or subtle print for a professional yet fashionable outfit. Pair it with heels and minimal accessories for a sophisticated touch.
Dressing Up for Special Events:
For formal occasions, choose a shirtdress in luxurious fabric, such as silk or satin. Accessorize with statement jewelry and elegant heels to create an eye-catching ensemble.
The Allure of Accessorizing
Complementing with Jewelry:
The right jewelry can elevate a shirtdress from simple to stunning. Experiment with necklaces, earrings, and bracelets to add personality and flair to your outfit.
Choosing the Right Footwear:
The choice of footwear can make a significant impact on your overall look. From casual flats to stylish heels, pick the right pair of shoes to match the occasion and style of your shirtdress.
Embracing Seasonal Trends
Shirt Dresses for Summer:
Embrace the summer heat with lightweight and breathable fabrics like linen or cotton. Opt for vibrant colors and playful prints to embrace the joyful spirit of the season.
Cozying Up in Shirt Dresses for Winter:
Transition your shirtdresses into colder months by layering them with tights, leggings, or even skinny jeans. Add a cozy cardigan or a stylish trench coat to complete the winter look.
Shirt Dresses for Every Body
Plus-Size Fashion:
Shirtdresses are inclusive and can be styled to complement plus-size figures. Look for styles that cinch at the waist and provide enough room for comfortable movement.
Petite-Friendly Options:
Petite women can opt for shorter lengths and smaller patterns to avoid overwhelming their frames. A well-fitted belt can also create the illusion of longer legs.
The Sustainability Factor
Eco-Friendly Fabrics:
With a growing emphasis on sustainable fashion, more designers are using eco-friendly fabrics like organic cotton, bamboo, and Tencel to create shirtdresses that are not only stylish but also gentle on the environment.
Ethical Brands to Consider:
Support ethical fashion by choosing shirtdresses from brands that prioritize fair labor practices and environmentally conscious manufacturing processes.
The Celebrities' Choice
Fashion Icons Rocking Shirt Dresses:
Celebrities have been spotted wearing shirtdresses on numerous occasions, cementing the style's status as a fashion must-have. From Kate Middleton's elegant midi shirtdresses to Rihanna's edgy street style looks, there's inspiration for everyone.
Red Carpet Moments:
Despite their casual origins, shirtdresses have graced the red carpet, proving their versatility and glamour. Celebrities have effortlessly pulled off shirtdresses at prestigious events, giving them a high-fashion twist.
From Runway to Street Style
Incorporating High Fashion into Everyday Wear:
Shirt dresses featured on runways of esteemed fashion houses often inspire street style trends. Embrace your creativity by incorporating high-fashion elements into your everyday outfits.
Street Style Inspirations:
Fashion influencers and street style enthusiasts have mastered the art of styling shirtdresses in unique and trendsetting ways. Keep an eye on street-style blogs and social media platforms to stay ahead of the fashion curve.
DIY Shirt Dress Upcycling
Giving Old Shirts New Life:
Revamp your wardrobe and reduce waste by upcycling old shirts into stylish shirtdresses. With a bit of creativity and basic sewing skills, you can create one-of-a-kind pieces.
Creative Customization Ideas:
Add ruffles, embroidery,
beads, or lace to transform a simple shirt into a chic shirtdress. You can also experiment with different sleeve lengths, collars, and hemlines to create unique and personalized looks.
Where to Shop for Shirt Dresses
Online Boutiques:
Online shopping offers a vast array of options for shirtdresses. Visit fashion-forward boutiques that curate a diverse collection of styles from both well-known and emerging designers.
Retail Stores with a Variety of Options:
Local retail stores are a great option for trying on shirtdresses and finding the perfect fit. Explore department stores or specialty shops that cater to a wide range of tastes and budgets.
Caring for Your Shirt Dresses
Proper Washing and Maintenance:
To ensure the longevity of your shirtdresses, it's crucial to follow proper washing and maintenance guidelines. Always check the care label for specific instructions regarding fabric and washing methods.
Storing to Preserve Quality:
Hang your shirtdresses in a well-ventilated closet to maintain their shape and prevent wrinkles. For delicate fabrics, consider using garment bags to protect them from dust and potential damage.
FAQS
 What is a shirt dress?
A shirtdress is a garment that combines the classic features of a button-down shirt with the feminine silhouette of a dress. It typically includes a button-front closure, collar, and cuffed sleeves, offering a versatile and timeless fashion choice.
Why are shirt dresses so popular?
Shirtdresses have gained popularity due to their versatility and timeless appeal. They can be dressed up or down, making them suitable for various occasions and fashion preferences.
How has the shirt dress evolved over time?
Originally inspired by men's work shirts, shirt dresses have evolved over the years with various style adaptations. Designers have experimented with fabrics, lengths, and cuts, catering to different body types and fashion trends.
What are the different types of shirt dresses?
Some popular types of shirt dresses include classic button-down shirt dresses, wrap shirt dresses, and belted shirt dresses. Each style offers a unique look and fit, allowing women to choose according to their personal style and occasion.
How can I find the perfect-fitting shirt dress for my body shape?
When choosing a shirt dress, consider your body shape and select a style that flatters your figure. A-line silhouettes work well for pear-shaped bodies, while wrap dresses are ideal for hourglass figures.
 How can I style a shirt dress for different occasions?
For a casual day out, pair a denim shirt dress with sneakers or sandals. Dress it up with heels and statement jewelry for formal events. Shirt dresses offer endless styling possibilities for various occasions.
 Are shirt dresses suitable for different seasons?
Absolutely! Shirt dresses can be worn throughout the year. Opt for lightweight fabrics like cotton or linen for summer and layer with tights or leggings for a cozy winter look.
Can plus-size women and petite individuals wear shirt dresses?
Yes, shirt dresses are inclusive and can be styled to suit all body types. Plus-size women can opt for styles that cinch at the waist, while petite individuals can choose shorter lengths and smaller patterns.
Are there eco-friendly options for shirt dresses?
Yes, with the growing emphasis on sustainable fashion, many brands offer shirt dresses made from eco-friendly fabrics like organic cotton and Tencel. Look for ethical brands that prioritize environmentally conscious practices.
How can I upcycle old shirts into stylish shirt dresses?
Upcycling old shirts into shirt dresses can be a fun DIY project. Get creative with embellishments, embroidery, or adding ruffles to create unique and personalized looks.

Shirt dresses have undoubtedly earned their place as a timeless wardrobe essential, combining the best of both worlds – the classic appeal of a button-down shirt and the elegance of a dress. From their historical origins to their versatility in modern-day fashion, shirt dresses have proven to be a go-to choice for women seeking style and comfort for every occasion.
Shirt dresses have become the ultimate choice for style-conscious women, offering both chic elegance and unmatched comfort suitable for any event. Discover a diverse selection of shirt dresses through Amazon, Nordstrom, H&M, and other top online stores, where you can explore an array of options to suit your individual taste and preference.
Elevate your style with a stunning blazer dress that exudes sophistication, or dazzle in a sequin dress that brings glamour to the spotlight. Embrace the allure of an emerald green dress that complements your radiant personality, or opt for timeless elegance with a classic black prom dress that ensures you shine on any formal occasion. Step into the world of these enchanting dresses and unleash your inner fashionista with captivating choices that leave a lasting impression.